They say the best way to find out what someone likes, or dislikes, is to ask them.  And that's what Cary does every other year.  The latest Cary Biennial survey was presented to Town Council this week, and the results look pretty good.
The Town has been surveying citizens for the past 14 years, since 1998.  It's an opportunity for us, as citizens, to give vital feedback about the town; from all kinds of services such as Police, Fire and technology, our town staff, taxes, trash pickup, access and cleanliness of parks, facilities and so much more.
Positive Results
The results presented (and if you have time and interest in reading the statistically valid 185 page report, or 4 page executive summary) demonstrate that citizens gave "high marks" to the town for its services, and also to Town Staff.  They received "grades" that anyone would be proud of, from courteous (A-), professional (B+), knowledgeable (B+) and prompt response (B+.)
I'm thrilled that the Cary Police Department, Fire Department and Parks and Rec have continued to pull very strong marks, too.  From the Police's A- to A, to the A+ (yes, A+) for the Fire Department.
It's no surprise that Parks & Rec did well, too – with the opening of the Cary Arts Center, and their awesome service, they add great value to Cary's quality of life.
Other Results
Many folks feel that the road and street maintenance has improved (comparing this year's results against results from 2 years ago) – but a grade of "C", although better than the "C-" from last time, is still the lowest grade received from citizens.  In many ways, this is due to the fact that so many of our roads are maintained (or not) by the state (such as Kildaire Farm, Davis, Morrisville Parkway, Cary Parkway, etc.)  so we are impacted by their maintenance schedules.
Not Surprising Results
I wasn't surprised that folks reported that they had some barriers to getting involved (such as being too busy or not having time), and many felt that they didn't know about opportunities for engaging.
The biggest concerns of Cary citizens continue to be growth, road improvements, schools and safety. It's been that way as long as I can remember, and I've lived in Cary for about 15 years.
I was glad to see that some of the questions focused on "new media sources" that Cary should look at using to reach out to citizens. Usage of Facebook (23.7%), YouTube (10.5%), Google+ (8.7%), and others, show that these are great potential mechanisms to use. (Facebook usage increased from 16.6% in 2010 to 24.7% in 2012)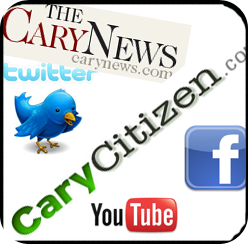 I was not surprised to see that 61.3% of folks get their information from the Cary News, it's delivered, for free, to many citizens.  And, the fact that Cary TV Channel 11 dropped from 19.9% to 11.3% makes perfect sense, as more and more people move away from Cable to satellite services for TV.  I thought it was great that the CaryCitizen made an appearance, where 15% of the respondents are now getting their information.
Color me surprised
Looking at the results and the types of folks that took the survey, I found some items within the survey very interesting.
Of the people surveyed, 55% said they voted in the last municipal election, although less than 14% voted in Cary.
A very low number of people watched the 2011 Cary Candidate Forum (9.4%) which slipped from last time (17%) in 2010) and (30%) in 2008.
54% of citizens own or plan to buy a smartphone this year, with 51.6% of those currently owning an iPhone. The heaviest users of mobile phones to access the internet were the 18-25 age group (31.6%) No surprise there.
10.9% of surveyed citizens ONLY have cell phone service (not a landline)
Downtown revitalization has significant Cary-wide support.  (78% of respondents had been Downtown in the last year, with the highest potential draw for the future being cafes/restaurants.) Shopping and Festivals received significant support, as well.
There seems to be support for using taxpayer dollars to pay to create and maintain a Farmer's Market in Cary. (73.5% on the support side)
 Information at your fingertips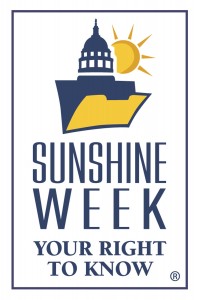 One of the questions on the survey dealt with citizens satisfaction with Cary making information available about services, projects, issues and programs.  The survey indicated that there is a high degree of satisfaction from citizens (80.4% on the "satisfied" side), with only 5.1% on the "dissatisfied" side.
It makes sense to end on this note, since next week is Sunshine Week. Sunshine Week is an initiative to promote a dialogue about the importance of open government and freedom of information.  When it comes to government – we work for YOU.  It's important for you to know that Town meetings, agendas, minutes, and work session information is all on the Town website.  And emails and information that we share is open to public record, and can be examined by through a simple public records request.
Thanks again for being the MOST IMPORTANT part of Cary – its Citizens.  You make Cary what it is, a vibrant community where people want to come to live, work, play and raise a family.