March has traditionally been the time when I write about "Women's History" – our struggle for the vote and women's suffrage, or our lack of representation in government or lacking a seat at the table of our private sector companies. It makes sense to do this, given it's Women's History Month.
And yes, I've written about this before –  and you can read my previous blog posts here, and here.)
But this year, I've really felt that the Women's Movement is shifting.  From the Women's March to #InternationalWomensDay – women are standing up and being counted.  We've marched, written songs, run for office, and made our voices heard.  You might not agree with all that's going on, but I have to give credit to all of the women that are no longer sitting back and watching from afar.  We have some amazingly powerful women in this area – whether they are on boards or commissions as volunteers, in elected roles, at the board table or the PTA – they help to make our towns, cities and counties the best that they can be. 
Marginalized, Misogyny and Sexism
You might be thinking that this movement isn't necessary.  Maybe you work in a company that is committed to equity, or maybe you feel that you just don't see the need.  I'm here to tell you that we still feel marginalized.  Why?  Well, because sexual harassment, inequality and inequity still happens everyday.
Misogyny, often described as the hatred of women has been in the news quite a bit over the last few months.  In fact, it's one of the TOP 1% of definition look ups on Merriam-Webster online.

You may have even seen this video – of a Polish member of the European Parliament who believes that 'Women must earn less than men, because they are weaker, they are smaller, they are less intelligent.  " All while discussing the gender pay gap.
And then recently, we saw reports of a veteran's allegations that military personnel were using social media to share and distribute nude photos and the names of some of them and of female colleagues and other women, as part of a network that promotes sexual violence.  This is sexual harassment, plain and simple.  I was impressed with Senator Gillibrand (D-NY) taking the military to task for being aware of the problem, yet not acting for so long.
The Stats – We have a ways to go
– 1 in 3 women worldwide have experienced physical and/or sexual violence from an intimate partner in their lifetime  (United Nations)
– The wage gap still exists – women who worked full-time, year round, on average earned 79% of men's median annual earnings, and annual pay for women now equals men's salaries, 10 years ago.
– Almost 57% of U.S. workers are women. (US Dept of Labor)
– 70% of mothers with children under 18 participate in the labor force, with over 75% employed full-time.
 – Mothers are the primary or sole earners for 40% of households with children under 18 today, compared with 11% in 1960.
– Among firms in the S&P 500, a stock market index of large U.S. companies, only 6% of CEOs are women. (Forbes)
– Male CEOs make about 22% more than women CEOs (Forbes)
What can we do?
First, we need to educate ourselves and our community.  Being ill informed of the issues, or turning our backs on the sexism and misogyny will not address the problem.
In honor of Women's History Month – the Town of Cary, along with the National Foundation for Women Legislators, will be showing the documentary, "Miss Representation."
"Written, directed and produced by Jennifer Siebel Newsom, Miss Representation is a documentary film that exposes how mainstream media and culture contribute to the under-representation of women in positions of power and influence in America. The film advocates that we all use our voice, eyeballs, and wallets to build a society that better represents us all."
Miss Representation first premiered in the documentary competition at the Sundance Film Festival and made its television debut as part of the OWN documentary film club in October 2011, with over 1.4 million people tuning in.
This documentary studies the obstacles women face in the media and the stereotypes that still define them. It features interviews with noted figures in politics (Nancy Pelosi and Condoleeza Rice), broadcast news (Katie Couric and Rachel Maddow), television (Margaret Cho and Lisa Ling) and movies (Geena Davis, Rosario Dawson and Jane Fonda.)
So, come out to see the Miss Representation at the Cary Theater – FOR FREE!
Mark your calendars!
Wednesday – March 29th, 7pm
Join us and bring your friends, sisters, daughters and others to see this documentary.  Bring your girl scout troupe, or your students – it's an informative film.
Let's talk.
I DO think we have made progress.  Movies like "Miss Representation" and "Hidden Figures" have helped to illuminate some of our societal problems, while also offering up a space for discussion.  I'm a firm believer that this continual light that we shine on these issues help – the next step is action.  (By the way, if you haven't seen "Hidden Figures" – GO! It's great!)
– We need more women to stand up and call out these behaviors.
– We need women to continually climb the corporate ladders.
– We need more women to run for office.
– And we need women to support other women.
Because, as Madeleine Albright has famously said for years…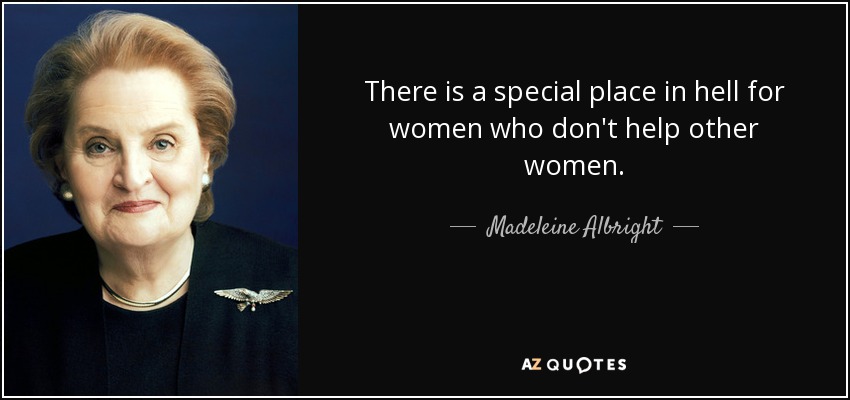 See ya at the movie…