Cary, NC – So many times we are focused on "what's wrong" or "what needs to be fixed," instead of celebrating great news, and great service.
Well, I saw GREAT service last week provided by the Town of Cary Public Works department.
Last week, a concerned Cary citizen contacted me and Council member Mrs. Robinson regarding a potentially dangerous issue on Bridle Creek Drive, near the Georgetown Subdivision.  An area near a culvert was widened and the citizen was concerned of the potential for a child to fall near the creek and be seriously injured from the drop-off near the sidewalk.
Public Works Issue
As I'm quickly learning, issues such as these fall into the domain of Cary's Public Works department.  After a quick note to the Director of Public Works, Scott Hecht, the team not only investigated the issue, but over the weekend, they installed a gorgeous wrought iron fence to match the one across the street.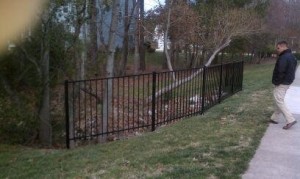 This was possible because a concerned Cary Citizen reached out to the town, to make us aware of the situation —- and, to a great set of Public Servants, that addressed the problem quickly and efficiently to "wow" their customer, the citizen.
The Cary Mission
For years I've noticed that the Town employees put their mission statement at the end of their emails – and this last week, this citizen and I got a REAL chance to see it in action.
Our mission statement: At the Town of Cary we focus every day on enriching the lives of our citizens by creating an exceptional environment and providing exemplary services that enable our community to thrive and prosper.