Cary, NC – The construction trucks are starting to roll at Davis Drive and High House, so get ready for some changes to occur.
Two projects are slated to begin this month at that intersection – at 2 of the 4 quadrants. Searstone is a project that has several components already started – the roads, lights, and trees have been down for quite some time.  You might also remember that Bradford was the controversial development that launched many citizens into action when it was proposed and finally approved in 2007.
Although these developments were approved 5 years ago, the state of the economy has slowed their timelines, causing both of these communities to now be on a similar build out trajectory. I expect that we will soon see a lot of movement and traffic delays as work begins.
Searstone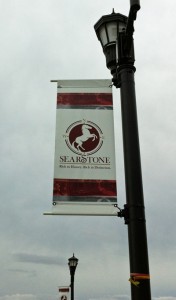 The Searstone Retirement Community is expected to start putting in their infrastructure for their residential buildings beginning this month.  You can see the construction trucks in place, and many of the outlying retail buildings are already open.
Based on the site plan, it looks to be an exciting and beautiful community, with a significant amount of open space, greenways, a lovely water feature and even a conservatory.  I love the idea of a senior community being close to our wonderful parks and catty corner to shopping and retail.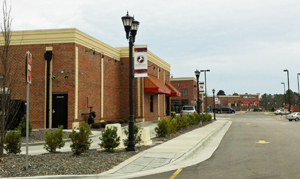 Town staff provided Mayor Weinbrecht, Councilmember Adcock and me an update on the project that has been on hold while the developer has secured funding.
– Building for all of the residential components will occur at the same time, rather than each of the buildings being completed in a phased plan.
– Additional road improvements will be needed; an eastbound right-turn lane at High House and Cary Parkway, an eastbound left-turn lane on High House also at Cary Parkway, additional widening of High House road
– A new traffic light on High House Road, aligned with Magness Drive in Bradford will be required once the warrant analysis is completed.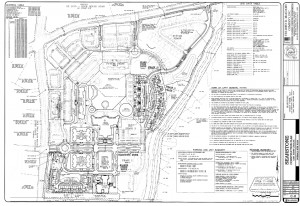 You can learn more on the Town of Cary Website and see the 99 pages of site plan documents. 🙂
Or, visit Searstone's webpage for more information
Bradford

Bradford has also started moving forward in the building process. It's slated as a "mixed-use development" that was approved to have  commercial (100,000 to 200,000 square feet), Office use (7,500-1000,000 square feet) and between 300-340 residential units (with 20-40 of those being townhomes.)
Notable updates from staff include:
– Bradford increased their residential units by 50 units while reducing the maximum commercial square footage by 50,000 square feet. (Total residential units = 390)
– A cemetery is located on the property, and will be left on site
– First implementation phase will be residential, with about 65,000 square feet of commercial
– The parking decks will not be built UNTIL needed by the developer
– Despite rumors to the contrary, there is NOT a movie theatre in the site plan
– None of the retail is identified in the the plan, and is certainly not in phase 1. It IS possible that this developer can sell off the retail space in the same manner that Searstone did several years ago.
– Depending on the timing of the Bradford and Searstone projects, one of those developers will have to widen an offsite intersection –  Cary Parkway and High House, based on their traffic impact.  Widening that intersection will be significant, given the amount of traffic through that corridor and the fact that any change will cause the clock tower and brick walls to be moved.
– Installation of Magness Road with signaled lights at both ends – lining up with Riggsbee Farm subdivision and Searstone. Signals will only be added as the traffic warrants the need.  (I'm worried about the traffic, since it backs up so quickly there when folks are headed home from work.)
You can check out the site plans on the Town of Cary page.  I also found their commercial webpage, online.