I wish I could say I'm a cyclist.  I'm not, really.  I'm just a crazy nut that likes to get on my bike and ride for hours on end.  Ok, maybe that's the definition of a cyclist – who knows.
What I do know is that this area is one of the absolutely best places to ride. We have easy access to the gorgeous rural roads in Chatham County, nice quiet roads near Shearon Harris, wonderful greenways and the American Tobacco Trail. Whether you are a recreational rider, a die-hard commuter, or somewhere in between, you can find something that works for you.
Cary – Bicycle Friendly
Cary has worked hard to ensure that our bicyclists have a safe mode of transportation, and has won an award as a Bicycle-Friendly Community.   No doubt due to the hard work of many folks on Town staff as well as so many active citizens that got us here.
When I was on the Planning and Zoning board, (before I rode that much) I met a gentleman passionate about cycling and bike safety.  Steven Goodridge (read articles by Steven, here) would review the plans that came before us with a keen eye to multi-modal transportation, always thinking about how cyclists could stay safe and share the road. So much of how I look at multi-modal transportation started by listening to Steven.  And then, I got on a bike.
Navigating on a Road Bike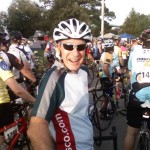 A very good friend started me (and another novice) on a road bike – convincing me that I could ride the 150 miles (over 2 days) in the Multiple Sclerosis Bike MS ride in New Bern, NC.  He taught me all the "rules of the road" – from ways to stay safe and defensively ride, to hand signals and pace line riding.  We started slow, and yes, eventually I could ride well enough not to kill myself, or anyone near me. I finally rode enough to join my friends on a number of rides throughout the triangle, and then, on the full first day ride of 75 miles – and lived to tell about it.  Riding in a group to raise money (especially for a cause so close to me) was exhilarating!  I soon convinced my daughter and mother to join me, and we've all ridden in the Bike MS ride.
So, keeping Cary a great place to ride a bike is important to me, and judging by the huge number of bike riders out on a gorgeous day, to so many people in Cary.  That's why it is discouraging for me to read about the House Transportation bill, the American Energy and Infrastructure Jobs Act.  Although there are some cost cutting measures that are at the crux of the bill, it's disappointing to see the impact that the bill will have on biking and walking.
I think the American Bikes.org website says it best:
This long-awaited multi year transportation bill eliminates the two largest programs that fund biking and walking infrastructure—Transportation Enhancements and Safe Routes to School. Without these programs, communities all over the country will lose resources to build the sidewalks, crosswalks, and bikeways that make biking and walking safe and accessible in communities across the country
Impact to Cary
The Safe Routes to School has funded critical sidewalks, crosswalks and safety infrastructure to prevent unnecessary deaths across the country.  Cary has taken measures over the years, to prioritize sidewalk build outs, especially where they are used by children going to and from school.  But our budget for sidewalks doesn't begin to meet the needs.  Some of the funding that will be missing pays for the Rails to Trails projects – of which our own 22 mile American Tobacco Trail is one.
It's important that as a town, we continue to support multi-modal transportation initiatives.  Since biking and walking make up 12% of all trips – it's important to have safe avenues to get around.  We also need to continue to support the initiatives that help build "healthier places for healthier people," as the Rails to Trails folks say.  When choose to bike or walk, those are less cars on the road, less congestion, and better air quality.  And, of course, less wear and tear on our cars and roads.
If you want to learn more, check out America Bikes.  Or, just get on your bike, and I'll see you out there!
———————–
Featured photo by Hakan Dahlstrom