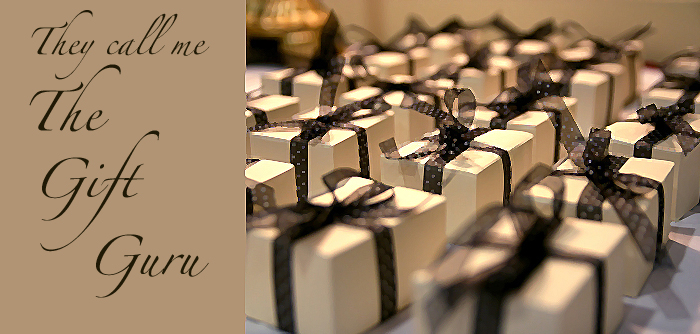 It's the holiday season and it is one of my favorite times of the year.
Why?

Because it's one of the times during the year that I can give gifts to friends and family to let them know how much they mean to me every day throughout the year – without folks thinking that I'm a nutcase. (Ok, maybe they think I'm a nutcase, but that's beside the point.)
Anyway, I'm kind of known around my group of friends as the "gift guru." I work really hard on finding a gift that shows the gratitude, love and regard that I have for the recipient. For me, finding the "right" gift isn't a chore. It's a opportunity to demonstrate or show love to that person. (Have you read the book "The 5 Love Languages" by Gary Chapman?" Great book that speaks to finding how to best show love to someone, so that they REALLY get it.  Worth a read, for sure. )
For me, the fun of gift giving isn't just the brainstorming on what the best gift is, it is also the hunt to find, create or make the gift. It's the act of unconditional love, an opportunity for me to demonstrate my love, esteem or care for that other person – and not wanting anything in return, except to hopefully see the look on their face when they receive the gift.
Having said all of that –I thought I would showcase some of my more interesting gift ideas, in case you are having a hard time finding a gift for one of your loved ones.
(NOTE: I do NOT get anything from directing you to these items, and I make no warranties on their applicability or appropriateness for your intended.)
For the Crazy Kid (Or Young at Heart) 

Jumping Stilts
These are not for the faint of heart – but very cool. They are bouncy stilts that will allow the user to jump, run and do crazy things once they are attached to the legs of the wearer. You can jump as high as 9ft and run as fast as 20 miles an hour. They are made by several vendors – Power Risers and AirTrekers, or look at this page. You may have seen them used at the 2008 Olympics.  (Below is a video of my son, once he got the hang of them!)