It's the holiday season and it is one of my favorite times of the year.
Why?

Because it's one of the times during the year that I can give gifts to friends and family to let them know how much they mean to me every day throughout the year – without folks thinking that I'm a nutcase. (Ok, maybe they think I'm a nutcase, but that's beside the point.)
Anyway, I'm kind of known around my group of friends as the "gift guru." I work really hard on finding a gift that shows the gratitude, love and regard that I have for the recipient. For me, finding the "right" gift isn't a chore. It's a opportunity to demonstrate or show love to that person. (Have you read the book "The 5 Love Languages" by Gary Chapman?" Great book that speaks to finding how to best show love to someone, so that they REALLY get it.  Worth a read, for sure. )
For me, the fun of gift giving isn't just the brainstorming on what the best gift is, it is also the hunt to find, create or make the gift. It's the act of unconditional love, an opportunity for me to demonstrate my love, esteem or care for that other person – and not wanting anything in return, except to hopefully see the look on their face when they receive the gift.
Having said all of that –I thought I would showcase some of my more interesting gift ideas, in case you are having a hard time finding a gift for one of your loved ones.
(NOTE: I do NOT get anything from directing you to these items, and I make no warranties on their applicability or appropriateness for your intended.)
For the Crazy Kid (Or Young at Heart) 

Jumping Stilts
These are not for the faint of heart – but very cool. They are bouncy stilts that will allow the user to jump, run and do crazy things once they are attached to the legs of the wearer. You can jump as high as 9ft and run as fast as 20 miles an hour. They are made by several vendors – Power Risers and AirTrekers, or look at this page. You may have seen them used at the 2008 Olympics.  (Below is a video of my son, once he got the hang of them!)
Make sure to order the safety gear – helmets and such.
Wheels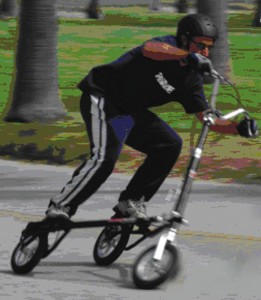 We love the Trikke – it's like nothing you've probably seen before. A combination of a bike and skiing kind of vehicle. Takes some time to get used too, but it's fun and a great workout. They even carry them at some Target Stores now.
Street Surfing

Have you seen these – they are like Skateboards but flexible. My kids have them and used them all the time – they have the Wave Board . Lots of fun, allowing you to get around.  Again, wear protective gear.
Flying and Fun things
The AR Drone is for those of you that like flying toys – and this one is  controlled by your iPhone.
All this – 4 propellers,  HD cameras, stable and strong structured vehicle, wide angle lens, wifi, video storage of your video recording, and all controlled from your iPhone.  What's not to like?

Lasers are Fun for ALL
If you haven't seen the FireFly – then you are missing out on the coolest new toy.  It's a like a party light for the next generation.  Put it in a kids room, bring it to a party, or do what we do, and take it to a bon fire and watch it play lights through the smoke.  And, it was invented by a local Cary inventor.
And, if you like green lasers, and who doesn't, everyone should have a green laser pointer to use on camping trips. Use it to point out the constellations, making sure, of course, not to point it at any planes in the air.
If YOU have skills
If you have the skills – make it. Make the gift! I love being able to give something from the heart AND hands. I can crochet, but not really knit. My crochet skills are average – but I can put out a reasonably well-made afghan. I just finished one for my brother, and I made one for my mom a few years ago. This is the kind of gift that requires planning but is treasured for a long, long time. You can take a quick class at Michael's, or do what I did – learn from a book.
If you cook, make up a "gift certificate" for a meal for a friend – or make something that freezes well, and gift that as a gift. Any mom I know would LOVE the ability to take out a frozen, home made meal. That's better than any coffee cup.
If THEY don't have skills
I love the idea of cooking classes, or classes to learn a particular skill set. A Southern Season has great cooking classes, as does Capri Flavors in Morrisville.  Both have awesome classes. Also think about photography classes, sewing classes, whatever. (Did you know that the Town of Cary has classes? Just sayin') A class that you can take WITH them, is even better.
Make it, give it
My last 2 fun gift ideas were for different recipients, but they had something in common.  They were gifts of "experiences."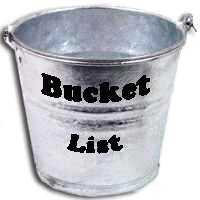 For my mother's birthday, I created a Bucket List of Experiences.  What I did was to purchase gift certificates for her (and our family) for a host of events and experiences.  Included in the bucket (yes, I got a galvanized bucket from the hardware store, and decorated it) were trips to the Art Museum, a Segway Tour of downtown Raleigh, going to the Zipline in High Point, lunch with friends,  etc.  I also included free or cheap "gift certificates" – like a trip to the makeup counter for a "girls makeover", Movie night (with a gift card), and "personal shopper" trip.
For a wedding gift, I created a  Year of Date Nights for the Newlywed couple, and put it in a travel memory box.  This way, they can create their own memories for their first year together.  Included in the box were 12 envelopes  – 1 for each month.  Again, the Segway Tour (I love that!), a charitable Bike Ride (they are cyclists), a coffee date (with gift certificate to Starbucks), a membership to the NC Art Museum (a gift membership gets them in many times, for a number of events), a membership to the NC Zoo,  events at the Koka Booth Amphitheatre, a Movie Night, Dinner Out… etc. Pick the events and activities that are right for the couple.
It's around the corner
With the holidays just around the corner, it seems the perfect time to say THANK YOU to all of you that have taken the time to read, comment and share my blog.  Sitting down to write a blog is harder than I thought and I've learned a lot through the process.  It's quite a process – organizing my thoughts, thinking about what I might actually want to share, and what YOU may want to read.
Chanukah starts this weekend, and Christmas isn't that far away – so I hope that these crazy gifts gave you some ideas, and maybe made it a bit easier for you to find the perfect present for the ones you love.
Thanks again for reading!