That's what I was tagging my adventure with the Snow Patrol last weekend.
I admit it, as a councilmember I sometimes get to do cool stuff. 
I've been on stage to give my children their diplomas when they graduated from high school.
I've ridden in a parade and thrown candy from a car & a float. (Wish I was better at that!)
Got to put my handprints into the concrete at the Cary Theater.
Climbed to the top of the tallest Firetruck ladder and slid down the pole in the Fire Station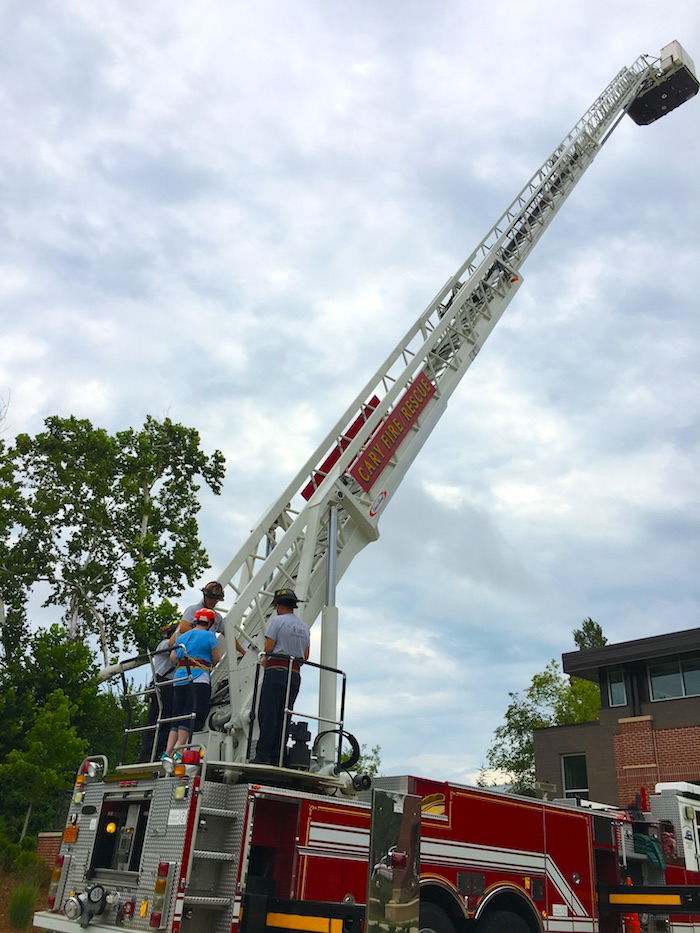 – Did a ride-along with the Police Department – with a K9 officer
 – Spent an evening with Cary EMS, on calls with them as they save lives. (I need to blog about that!)
All fun stuff.
But that's not just why I do it.  What I love, is seeing what our Town Staff does in the field! Just being with them for a few hours to get a small taste of what they do in their jobs – and how important those jobs are to our high quality of life in Cary.  I learn so much by just being by their side.  Hearing their stories. Understanding why they do what they do. They are absolutely the best around.  So, it seemed natural to join them on a snow day.
And it begins
The snow event was supposed to be big, remember? Something like 6-9 inches.  I was told to come in about 5:30am for the briefing at Snow Command.
By that time the A-Team had spread 30,000 gallons of brine over the last few days– it takes about 18 hours to brine all major roads and streets in subdivisions.  With the rain, though, it mostly washed away.  Just think, we have 739 miles of road within our Cary Town Limits, of which 555 are within subdivisions.
I arrived that morning to the A-Team trying to gauge the weather, resources and the next steps in the plan.  With the shift in the weather pattern, they knew things were fluid.
Jumping in a Snow Plow / Spreader
I joined Chad for my shift.  These guys and gals work 12 hour shifts, starting before 6am for the briefing before they hit the roads.  I was in Division 2, Plow 8 (see, I got the lingo down) and we were the only spreader in that division.  The town has 16 spreaders and contract out an additional 5.  They also have an additional 32 trucks with only a plow, and of those, 4 are actually garbage trucks with a plow on the front.  Talk about using every vehicle ya got!
Overall, there are 72 pieces of equipment involved in this effort – from the plows, spreaders, and even the lifts to put the material (or "product") in the spreader, to the vehicles that mix it up in the buildings, and more.
And Away We Go
The morning plan was to get the Red Line, or major thoroughfares and arteries passable.  When I drove into the Public Works Operations Center on James Jackson that morning, some roads were mostly navigable, others were sheets of ice.  Chad and I headed out in the heated cab to clear Cary Parkway – from end to end.  That is, from Harrison Ave to Holly Springs.  It seems much longer when you are going about 20-30 miles per hour – plowing and spreading product.
Ah, right.  That "product" – it's a mixture of a fine sand and salt that is spread out on the roads.  Over the course of this event, Cary spread about 2500 pounds of the mixture, and about 900 tons of pure salt.  (Now you know what all that stuff on your car is.) It takes a good hour for that product to start making a dent in the ice/snow, and of course, it was helped a bit by some of the vehicles that were driving over it.  The spreader could hold about 2 and ½ bucketfuls, (I can't remember the tonnage, maybe 8 tons) and that would only last about half of our trip, then we had to go back and get more.
Once we returned, we did the big "fan out."  (My words, not an official term.)  Basically, we got 3 plows, and us (a plow/spreader) in a staggered line, and went down Cary Parkway in tandem.  It was a beautiful thing to see, kinda like a dance.  We were able to clear just about the whole width of Cary Parkway in one shot that way.
A Couple of Saves
As we were finishing our road, the radio chirped that a plow was stuck in a cul-de-sac and needed assistance.  We were less than 5 min away, so we headed out. Sure enough – one of the plows was lodged into the ice packed circle, and could get no traction to get out.  A number of neighbors were there watching, coaxing and cheering them on. Chad grabbed his trusty shovel, tossed out a few throws of product, and within about 5 min, we were back in the cab triumphantly waving to the neighbors with the plow driving behind us.
About an hour later, we were doing the same save with another plow – this one perilously close to a mailbox, maybe 6 inches or so of its demise.  The plow had slid down the ice crusted road, narrowly missing it.  Another set of shovelfuls of product, and voila – plow out, and the mailbox was never touched.  Impressive.
A True Story of Amazing Public Servants
Having grown up in St. Louis, and having lived a while in New York as well – I can say that comparatively, we haven't seen that much snow and ice here in Cary over the last 22 years I've been here.  Many of you came from places where they have more "weather," so you can understand.  I remember once my son and I were traveling when he was little, and he saw dirty black snow piled on the side of the road – and asked what it was.  I told him it was snow – and he didn't believe me.  And it made perfect sense why not – our snow melts here before it ever gets black and really dirty from sitting on the side of the road for a long time.
To clean our streets and make it safe for travel, picking up your trash, getting emergency services to you – takes a lot of effort, people and pizza.  Over 300 people make up the A-Team, who work tirelessly on these 12 hour shifts.  They are folks from all walks of life; from public works, our Fire and Police Departments, and some are contract help pitching in.  Hey, a few even bring their own RVs, in case they are worried they can't get home in between shifts.
Some sleep on cots. All bring a passion to serve.  And the work continues long after the event – as it takes a week to dismount and clean up the equipment, reordering and replenishing the salt, reordering plow blades and sweeping all the streets to get the sand and salt cleaned up.
Just a Girl in a Snow Plow
I was just along for the ride.  But I was lucky enough to meet some of the finest public servants we have, doing the hard work while we sled, enjoy the day off, and know that all is taken care of by them.
Thanks to all who serve Cary.