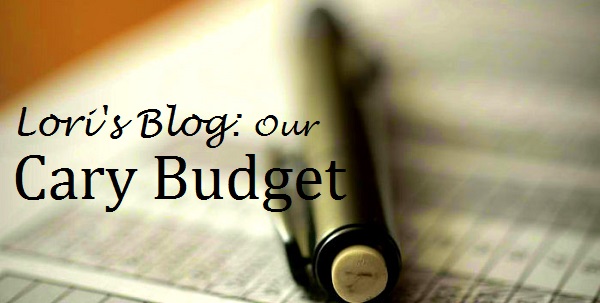 It's Budget Time
Wake County Commissioners just passed their budget, and the NC General Assembly just dropped a big budget document on all the members' desks on Tuesday, June 16, 2015.
For a vote on Wednesday, June 17, 2015. That's right. The very next day.
The good news is that, here in the Town of Cary, we have a participatory budget process. It allows lots of time for involvement from you, our citizens.
Feedback
For our Fiscal Year 2016 budget, we received feedback via:
– Facebook – 19 comments
– Twitter – 2 comments
– Email – 26 comments
– Public Hearings – 4 comments
– Voicemails – 1 comment
Not a lot, but some. And we've had more feedback in previous years.
This feedback started in October 2014, when we expressly solicited feedback from you, and, also, when we look for feedback during our two public hearings in May and June. There are about eight weeks between the posting of the proposed budget and our final vote.
Often, comments we receive make it into the budget process, and, sometimes, as in the SK8 Park and Pickle Ball enthusiasts, they make it into our Master Plans.
So, What's in the Budget?
-Total Budget of $295M:
$218M operating budget
$77M capital budget
-$1/month increase in solid waste fee to help with cost recovery
-$3.8% increase in water and sewer rates, an average of $2.75/month (the result of rate smoothing to pay for the $300M water treatment plant).
-Increase taxes of 2 cents from 35 cents per $100 valuation to 37 cents to pay for voter approved bond projects (approximately $40/year for a $200K home) – still keeping us in one of the lowest taxes in Wake County. (Originally, this was 3 cents, but additional electricity tax revenue came in, allowing us to remove the additional penny).
-24 new positions including hires of a new police officer, three firefighters, customer service reps in Public Works, Parks, Recreation and Cultural Resources and more (reducing staff to 8.1 staff per 1,000 Cary residents).
The Budget Process
It's hard to believe, but budget planning starts almost as soon as the budget is signed. The Town of Cary Fiscal calendar starts July 1st, so our budget must be approved by the last council meeting this month, which is June 25, 2015.
By law, the balanced budget (yes, local government MUST have a balanced budget, even though the Federal government does not) by June 30th.
I, and my fellow members of the Town Council, take this job and our fiduciary responsibilities to the citizens with utmost care and responsibility. There are many additional projects that each of us would like to see added to the budget – but money always seems to get in the way.
During this process, if there is something that we want added to the budget, that means that some other project will have to be removed or slimmed down. Those are hard decisions, just like you make at home everyday.
Adding to this struggle is the fact that the General Assembly removed the Town's ability to levy a privilege tax on businesses. Despite how we might feel about that tax, it did bring in an additional $1.5M in revenue to Cary. We have to make up for that lost revenue in some other manner.
There are various ways to make up for the lost revenue – reducing spending, of course, or raising taxes.  And no one wants to raise taxes. The math for raising taxes works this way – if we raise taxes by 1 cent – that generates about $2.2M in revenue.
Raising taxes is not what anyone wants to see, and Cary has been lucky to have an amazing Town Staff that run a highly productive and tight ship – keeping our productivity and efficiency of our employees high while providing some of the highest quality of life in the Triangle.
We have not had a tax increase that wasn't for voter approved bonds in 25 years…since 1990. Pretty amazing.
What's In?
There are a number of great projects on tap for this year – some of those funded with voter-approved bonds from 2012.
Support for deployment of gigabit fiber services by telecom companies AT&T and Google Fiber ($821K)
Support for new positions, from Planning, Parks, Public Works, and Engineering
Addition of wellness programs at Mills Park Middle School ($7700)
Parks Master Plan update to include the Joint Planning area for Cary in Chatham County ($100K)
Expansion of the successful Project PHOENIX ($130K)
ADA and access improvements at Sertoma Aphitheater and Koka Booth ($550K)
Renovations at Thomas Brooks Park Fields ($275K)
Kilmayne Water Storage Tank ($3.5M)
Replacement of a Fire Pumper truck($650K)
There are many more that you can read about in the budget
What's Missing?
I'm sure that there are lots of folks that would weigh in on wanting more out of our budget, and I hear them, as well. As of today, we have a list of items that might be in or out of the budget. (We had a work session on a few of them Tuesday, June 16, 2o15).
Open Data – discussed on Tuesday. A small request that I think will make for HUGE inroads in citizen engagement, visibility and public information availability.
Expansion of Crossing Guard program at Schools – this item did not get funded this year. The proposal would have added an additional $250K to the police budget. Cary currently spends $100K to provide crossing guards at 11 elementary schools. We plan to reach out to Wake County to see what additional resources they might provide. Side note: Cary also pay for School Resource officers in the high schools, today.
Paper map of Cary – suggestion: to find a private or not-for-profit that will step up.
On-location Cary TV program – too costly.
Increase in recycling pickup frequency – although many folks have shared that their recycle bins are becoming fuller more quickly than their regular can, this would be a significant increase in costs to the Town (one time cost of $2M for new equipment and annual costs of $595K).
Sunday C-Tran service – although I would love to see Sunday service, this is a difficult item. Currently, Wake County is considering a November 2016 referendum on a sales tax increase to support transit. If we expanded our service now, it would not make that service eligible for that funding. So, we are in a "wait and see" mode.
So, Overall…
So, overall, I think we are close to having a completed budget. There is still room for improvement, and I always value your input. Although we might not be able to do something in this year's budget, please give us your thoughts. They, and you, matter.
———————————————————————————————————————————-
From the blog of Lori Bush, At-Large Member of Cary Town Council. Photo by R. Nial Bradshaw.