I love technology.  I do.
I've written about it before, it's part of my twitter profile, and I see the value of technology to engage citizens, connect people and improve lives.  Technology can bridge the gap between communities and continents, it democratizes all voices, allowing citizens to participate on a level playing field, and improve access – closing the educational divide.
You use it, and you want it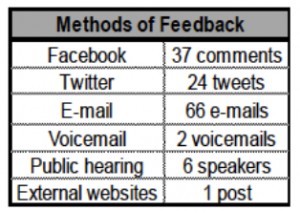 Here in Cary we've seen our citizens use technology to engage with the Town:
– Citizens use the Town website to look up Town agendas, minutes and development activity and watch Council meetings on YouTube.
– Provide budget feedback via Twitter (24 tweets), post on Facebook (37 comments) and email (66 emails).  The number of  Tweets and Facebook posts combined (61) this year were more than ALL of the input we received for last year's budget (59 comments.)
– We saw you create an online petition signed by 1275 residents to save the Cary High School Water Tower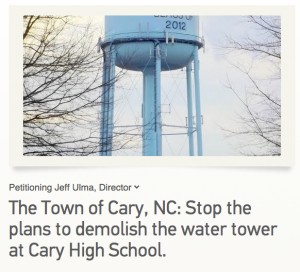 – A biennial survey that shows 54.5% of our citizens own or plan to own a smartphone this year and the trend is that smart phone users outnumber basic phone users.
And on and on… 

Charting a path

The goal of creating the Technology Task Force (TTF) was to tap into the wealth of information that we have in our citizenry – these folks are the best of the best, and that's what we needed.  We have incredibly technology literate people in Cary – you work for IBM, Cisco, NetApp, SAS, LexisNexis, … and so many of you use these tools everyday. Cary needed a set of recommendations from folks from all areas that use, build, or leverage technology; to share with the Town ways to increase citizen engagement, and to get us on the right path.

And they delivered! The TTF gave Council 71 recommendations.  Of those, 2 have since been done (but not by the town.)

Disappointment
I was hopeful that some of those recommendations would make it into the Town Budget for this year.  No such luck.  Not a single TTF recommendation – from improving the website, providing Open Data, to creating mobile apps, improving social media  or citizen engagement tools are included in the budget for next year. (I wrote about the Town budget earlier this year.)
Why?  It comes down to money and priorities.
Our Town budget is tight, and council has to make some hard decisions.  Town staff has detailed that implementing ANY of these recommendations will cost staff time, meaning real operating expenses.  And our collective priorities aren't aligned to provide those funds.
I don't disagree with staff.  It will cost money.  But I disagree with our priorities.
Here's what I believe:
We need to foster Open Data – get the data that we have out there so that really cool people can build really cool apps, that make our lives easier.  Apps like RGreenway that now shows Cary Greenways (made possible by putting out our greenway data, but what about new greenways that come online?)  Then we can have great Open Apps – civic apps built with open data – and have I mentoned the value of Code for America?  (Join the Brigade!) 

We need an app or service like SeeClickFix, a 3-1-1 tool that allows citizens to post issues (pot holes, streetlight repair, and other nuisances and issues) to an app – getting you to submit and track non-emergency service requests.  More importantly, you can vote, and see if other people have submitted it, and track the requests.  We could call it "ASK Cary" – just sayin'.
We need expanded social media tools and engagement, to reach out to citizens where they are, and using what they use
Update our website.  Make it easier to use, to find content, and to easily find information.  How many times have you tried to find out if a Town field is open? A list of fun events coming up this month, for kids? For teens? For seniors? Something that looks professional, clean and easy to navigate.
We need a Town of Cary Official App – that would provide users with event information, get Town news, request services or connect with a Town official.
Yes, it costs money
Technology isn't free. I know that.   But I ALSO know that an investment in these areas can save us money in the long term – while also connecting us to you, our citizens.  Other cities have shown that these investments DO have return in cost savings in reduced phone calls, while providing real-time feedback to citizens. Leveraging technology is not just a nice or cool thing to do — it's critical if the Town hopes to cut costs while still providing core, vital services.
And, most importantly, technology touches all of our citizens.  99% of our residents have internet access.  54.5% have a smartphone, or are planning on getting one. I've seen children looking up Skate Park information, our seniors using the web, and new users accessing their water data online. Improvement and expansion of our Town services touches us all, and it's the right thing to do.
Not funding any Technology Initiatives this next year means that we are going to be another year behind.  We have a roadmap – given to us by our great TTF members, let's do something.
What can you do?  Speak Up, Speak Out 
So, I might be the only one that thinks we can do better, but I hope not. I hope we can get back to Cary being the "Technology Town of NC" – but I'm afraid we won't get there at this rate.
Personally, I think these initiatives are at least worth the kind of  $110,000 Public Art funding for Fire Station #2 that is in the current budget.
If you agree, or don't, make sure to make your feelings known to your council members:
Speak at an upcoming Budget Public Hearing:
  At Town Hall on Thursday, May 23, 2013 and June 13, 2013, 6:30 p.m.
     (Held as part of the regular Council meetings)
    Town Council Chambers at Cary Town Hall, 316 N. Academy St

Call or email council with your thoughts
Tweet your ideas, thoughts or concerns about #technology in #cary to @TownofCary
You can read more about Cary's FY14 Budget at our website.
Most importantly though, thanks for being an important part of Cary.