It's been a day since we returned from our council retreat in Wilmington, and I'm still having a few "a-ha" moments about what I learned.   (BTW – there's a nice set articles written about the retreat on Cary Citizen, or you can always get the notes from the Town of Cary.)
Getting there
Council members Adcock, Robinson and I carpooled to Wilmington, which ended up making the drive so much fun.  We talked about kids, recipes, families, food, history, eating, meals… well, you get the idea. All that talk about food made us incredibly hungry by the time we got there- and we joined the rest of the folks at the restaurant.  It was so nice to really get to know my fellow members on a more personal level.  Each of us brings a unique perspective and set of life experiences to council.
DAY 1 – Getting to know each other
We started the day with a session aimed at improving our effectiveness as a council.  As the "newbie" on the council (28 days by then!) I was soaking it all up.  This council has a great working relationship; I've noticed the respect and consideration of fellow members at the table. In fact, all of the council members have reached out to me – offering to assist me in coming up to speed.  I've felt VERY WELCOMED. The exercises focused on what we each want and expect from our fellow council members.  Words like "respect, preparation, fairness and honesty" were at the top of the list for all of us. At one point I got a chance to show Jack a few things about his new phone. 🙂
   TAKEAWAYS: Look for opportunities to agree. Be open-minded. Preparation is key.
Land Use
The next 3 hour session was on Land Use Planning. Anyone that sees a 3 hour session on that topic might normally look for significant caffeine to help them muddle through. But I have to give the staff and consultants huge kudos. They did the unheard of. They made it fast-paced, fun and incredibly interesting.
Demographic data: Information from Cary's data, combined with the 2010 census data gave us a real view into our changing demographics.  The Cary population (about 140,000) has become more diverse, in many ways echoing the diversity of the US population as a whole. We are seeing a growing Asian and Hispanic population, and an increase in the number of seniors.  (I'm not that far off from that population.)
In Cary from 2000 to 2010 – we have seen that the number of folks 65+ has increased from 9.7% to 16.2%, our Asian population has gone from 8.1% to 13.1%, Latino population increased from 4.3% to 7.7% and more than 19% of our Cary residents are foreign born.
Trends presented: Across the country, cities are finding the need to have a diverse set of housing stock available, for all types of folks.  Apartments for kids just entering the workforce as well as for people looking to downsize later in life. One of the consultants presented a best-practice from Dublin,OH – a community faced with many of the same issues.  It did make me think – after my children leave and enter the workforce, will there be affordable housing for them here in Cary, so that they may live and work close to family?
The Town has not looked at the Land Use plan in an overall cohesive manner (across the entire town) since the original document was created in 1996.  I participated on the Planning and Zoning board when we looked at several area plans (Northwest and Southwest plans) and they have guided the town as we move forward. But now the time is right for us to update that document, taking into account our changing demographics while keeping our culture intact.  Plus, it's a real opportunity for us to make the plan and our vision better – more readable, and easier to understand. And, most importantly, to involve the citizens.
   TAKEAWAYS: The "engaging the community" component was one of my favorites.  The consultant echoed what I've often felt, that communities that build connections, ones that tap into the emotional attachment we have with our Town, are the ones that THRIVE. Great ideas were shared on ways to increase citizen participation in the visioning and planning process – such as receptions that involve refreshments (yes, beer), making them real EVENTS with speakers, and using all kinds of outreach, including social media.
We should see updates from staff as they march forward to put this next vision and planning set of sessions together.
Intergovernmental Effectiveness
This section should have been called "working well with others." 🙂  The goal, of course, was to help us all navigate the intricacies and complexities of working with outside organizations and agencies, in order to meet our town's goals. We heard from the Town's federal legislative consultants – where they provided insight into mechanisms and methods for engaging at the federal level. We also heard from a representative from the NC League of Municipalities, and our NC Legislative consultant.
   TAKEAWAYS: This is a difficult time in our country – everything is impacted by the budget, and everything we do impacts the budget.  It's also a time where the NC Legislature is reexamining what authority municipalities have, and should continue to have, all while being a highly partisan atmosphere.  At the town, we need to ensure that we continue to invite our elected state and federal officials to events where we celebrate our accomplishments in town, share with them our challenges as well as our wins. I will be reaching out to our representatives to introduce myself, and of course, thank them for their service.
Wrapping up Day 1
We finished about 5:45pm, with a short break before dinner with everyone. All and all, a great first day for my first retreat.
DAY 2
Customer Service
We started the day with a focus on Customer Service. We ALL agreed that the Town has great staff, but there is always room for improvement. Before we arrived, we each watched a 1 hour webinar by Dennis Snow, a former Disney Executive and author of Unleashing Excellence the Complete Guide to Ultimate Customer Service. The webinar was informative, and provided some great examples and best practices from his years at Disney.  I jotted down some of his quotes that really resonated with me.
When we treat our responsibilities as tasks, we treat our customers as tasks; they end up feeling processed. When we treat our responsibilities as opportunities to create positive experiences, customers feel valued.

We must look at everything through the "lens of the customer."  Only then will we be able to improve.

Create "customer wows." Moments that a customer will remember.

Hold ALL employees accountable for customer service.
We then walked through the council survey feedback (we had all been asked to take a survey on how WE feel the Town staff does in the area of customer service.  I was glad to see that measurement and metrics would be a key part in implementation of new customer service methods.
At one point, Council member Robinson and I spoke quite passionately about the need to update the Town website, especially the Google search engine and ability to navigate through the pages, as well as finding new ways for alerting citizens to field closings. Bill Stice informed us that a new Google server will be coming online, to help, soon.  We both see the need for some improvements, and will be talking more about these requests.
Capital Projects and Funding
Luckily, when it came to this session, I had already been briefed by Scott Fogleman and Ben Shivar earlier in the week.  The issue at hand was to discuss and for the council to provide direction regarding upcoming capital projects in town such as roads, fire stations, and new parks. Currently, the Town has available funding options through a Bond that was approved by voters in 2003.  That bond funded a number of projects such as the Davis Drive and High House widening, Walnut Street, Louis Stephens extension, traffic signaling system, Cary Arts Center, Middle Creek Park and 20 miles of greenways, and more.  However, many of the council members feel that voters were promised that bond with no new taxes.  Because of that, we decided to let the remaining authority associated with the 2003 bond expire.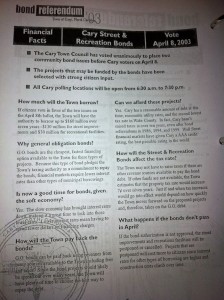 Note: Information provided by staff shows that document shared with voters DOES SAY we MIGHT have to raise taxes, but there had not been a tax increase with prior bonds.
That means, if we are to continue to improve and build out roads, add parks and new services, we will need to find new ways to fund those projects. Currently, we have a few options.
Use the rest of the bonding authority, discussed above.  (Council decides NO.)

Delay and choose not to do projects. (Possible, but will impact quality of life)

Create a new bond, with a list of proposed projects associated with it. (This would MOST LIKELY cause a tax increase.)
We unanimously agreed that we should let the voters decide.  Staff was asked to start the ball rolling, to put it before voters on the November ballot. There will be a number of work sessions and opportunities for citizens to be involved. I'd love your input as we move forward.
Boards and Commissions
The last session of the afternoon, and I was expecting this to be more difficult that it was. Kudos go to Sue Rowland, our Town Clerk, for making what I was sure would be a painful discussion, to be enlightening and eye-opening.
The Boards and Commission survey was reviewed – many thanks to the153 people that took the survey (board members, council, former board members, and staff liaisons.) Having been a board member on several boards and commissions, I have always felt that that service was a great way to provide input to the town.  The survey results were no surprise to me, many of the respondents felt there was clear direction and focus for the Planning and Zoning Board, the Parks and Rec, Public Art and Zoning Board of Adjustment. It was good to see that so many people feel the way I do – that there is GREAT value to the town from all these groups.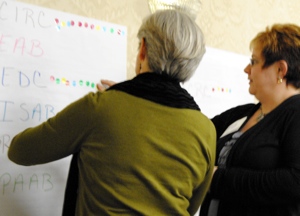 It's always important to re-evaluate where we are, and what boards and commissions have fulfilled their mission. It's often easy to START something – it's way more difficult to STOP.  But that's what we needed to consider. We had to look at the current slate of boards and commissions and evaluate their goals, missions and objectives, and to OBJECTIVELY consider if they needed to continue.
Citizen's Issue Review Commission – known as the CIRC, was created to provide citizens with a formal process for directly bringing issues to the town.  I was the chair of the Mayor's Task Force that created the commission, so this one was a hard one to talk about.  At the time of its formation, there really was no other way to address the council with an issue (besides the 3 minutes at "Public Speaks Out.")  Now, though, Council members have been utilizing the "pink slip process" that allows a Council member (and another sponsor) to add an item to an agenda.  This procedure was not utilized when the CIRC was born, and it's made it much easier for citizens to bring issues directly to their council members, and for those council members to act on it.
What I love about the CIRC is that it is comprised of Town of Cary School of Government graduates – folks that have taken the time to participate in 8 weeks of classes, learning about the Town, how it works, and how to engage.  (I'm a proud graduate, and I hope you'll consider applying to attend.) We agreed to look at moving the CIRC to an advisory task force as needed.
Economic Development Commission – known as the EDC, have been concerned with their status for awhile.  They made a proposal to council before I joined, to disband the board since we now have a stronger relationship and partner with the Cary Chamber of Commerce. There is also a Economic Development Governing Board (with council members, the Chamber, and the Town Manager) and we decided to add to that with members of the EDC, and to eliminate the current EDC.  Thanks so much to the EDC for everything they have done – it's also through their hard work and effort that Cary's been successful enticing businesses to open, relocate or expand in Cary.
Town Center Review Commission – known as the TCRC – was created to review the Town Center District site maps, enhancement projects and streetscapes.  With the addition of the Downtown Manager, and the current projects moving forward, along with the role of the Planning and Zoning Board, the council wasn't sure that it is still needed. Additional discussion will occur with the board members, but this was our feedback to staff.
Sue Rowland shared with us that she will be planning a work session on the boards. I requested that we spend some time looking across all of our boards, given the new information we received from staff on our changing demographics.  I'd like to see where we might be able to put some additional focus from the LENS of some of our customers – such as the senior community, the disabled and the younger generation.
Closing up
We finished on a high note – with each of us sharing ONE THING (or a few more) that we learned.  Also, recapping our outcomes, below.