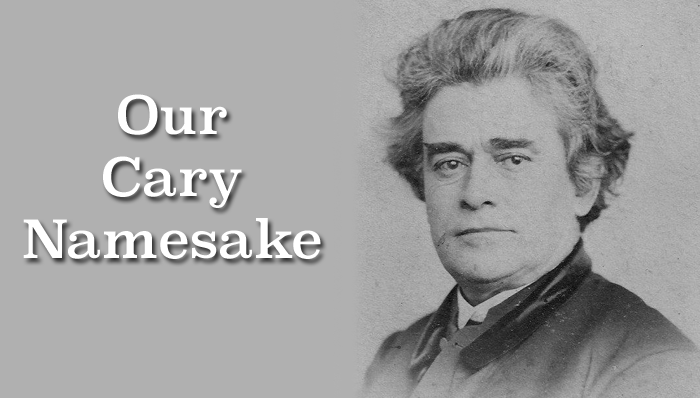 The following comments were made by my esteemed At-Large Council colleague, Ed Yerha.  Ed has a phenomenal way of providing informative and entertaining bits of history – and at our last council meeting, he spoke of the man for who Cary is named – Samuel Fenton Cary.  He's provided these comments to me to share, and I thought you all might enjoy the "history lesson." I did.  (Thanks so much to Ed!)
A Brief History Lesson
This year – 2014 – marks the 200th anniversary of the birth of a man without whom Cary would not be Cary.  The 200th birthday of — no, not Jack Smith – but of Samuel Fenton Cary, the man for whom our town was named. 
Sam was born on Feb 18,1814  to a pioneer family on the outskirts of  Cincinnati, OH in a log cabin.  (Although it seems like everyone was born in a log cabin in those days,  it still makes for a good story.)  We're told shortly after his birth his father built and moved the family to the finest brick home in the county.  Perhaps that's where we get our preference for brick around here – we may have inherited it from the Carys.
Sam grew up in Cincinnati, went to college and law school and became known for his legal and oratorical skills and was appointed to the Ohio Supreme Court at the age of 26, an appointment he turned down.
He used his skills instead to work for the common man advocating strongly for the 8 hour work day and other labor laws.  During the Mexican War, he was bestowed the rank of general and served in various military and quasi–military roles.
He became Chief of Staff to 3 Ohio Governors and later served in Congress as an "Independent Republican" and was the only Republican in Congress to vote against the impeachment of President Andrew Johnson, Raleigh's native son.   Sam had an independent streak.