As many municipalities do, Town of Cary elected officials and staff go off once a year to plan for the upcoming year and have time to discuss procedural issues or concerns, and to just reconnect in a less formal environment. In general, we have had these retreats outside of Cary, so that we aren't distracted from our work and home life while focusing on our Town jobs.
Since I've been on Council these "retreats" have been planned to be in areas where we can learn from the local experience. For instance, when we went to Winston-Salem, we spent time with the local folks getting a sense of what it took for them to revitalize their downtown. What did they do? How did they do it? What would they NOT do again? ☺  The idea being that we could learn so much from others who have attempted much of the same thing.
This time, our retreat agenda was focused on exactly THAT – but in Charlotte. We know we aren't Charlotte and folks would probably say that we don't want to be Charlotte, but there are always things that we can learn from another municipality that has, and is, facing similar issues and struggles.
Since I know that Councilman Frantz is posting HIS feeling on our trip, I'll try not to cover what he did, and focus on what I learned during my "sick stupor" in the Queen City. (Yes, it's true that I was sick during the whole trip – my biggest worry was that I didn't want infect anyone while there.)
All Aboard
When we were first discussing Charlotte as a location, I asked if we could take the train, and what a great plan that was. The trip was fantastic – a real opportunity to use our transit system while having time to connect with staff and other council members. We had lunch on the train so that we could hit the ground running when we arrived.
We were lucky enough to have our own train car for our group of folks. After settling in we had several presenters from Amtrak that provided us with background on the Piedmont Improvement Program underway. This program's goal is to make the train more reliable and safer, and the results are pretty impressive. The Carolinian (train from Charlotte to Raleigh and the return) has gone from a 4 hour 20 min trip in 1990 to a 3 hour, 10 min trip now. With their safety awareness outreach programs, they have seen a reduction in fatalities on the tracks as well.
Here are some interesting stats:
• Travelling at 55 MPH, it takes a mile for a train to stop
• Trucks are involved in 10 times more accidents than trains
• It is illegal to walk on the railroad tracks, they are private property
• Amtrak in NC also allows you to check a bicycle as luggage for free!
• Because of the increase in interest and ridership, a new midday service has been added between Raleigh and Charlotte
• The Cary Amtrak Station received an award from OneRail for being a National Example of Success
• The Cary Depot is the 4th busiest station in NC with 89,000 passengers
• The Cary Depot is the 2nd in the nation for customer satisfaction with a 94% customer satisfaction rate
• NC Train volunteers all over the state act as good will ambassadors – and they volunteer their time to help passengers. A number of Cary citizens are volunteers, including the president of the Train Volunteers, Bob Warner, who was on our trip
• The NC Train Volunteers are having their annual meeting in Cary this year, to be held at the Cary Theater!
The View
Seeing Cary and Morrisville from the train was so enlightening.  The new underpass at Morrisville Parkway is coming along nicely, and seeing the impact for many miles on either side of that, gives you a real view of the investment that Amtrak is making in NC.  We also slipped by the new bridge on Hopson Road, hopefully all of these improvements will improve the speed and reliability of the train schedules, as well.
Shhhhh. It's a Secret.  (Not really!)
One last set of cool items to share.
In case you were wondering, the colors used on the trains are the colors of the NC State flag. (Who knew?) And, the locomotives used on the NC Piedmont area are named for cities along the Raleigh-Charlotte rail corridor. The number of each locomotive corresponds to the incorporation date of the city that it is named for. For instance, the "City of Salisbury" is #1755. And…. (drum roll please)…  there is a new locomotive to be added soon, to be called the "Cary #1871."  (Obviously, Cary's incorporation date is 1871.)  How cool is that?
The NCDOT equipment program uses refurbished locomotives, which ends up being about half of the cost of newly purchased locomotives. The train that will be the Cary was originally built in the 60's, and retired in 2013. It will cost about $900K, but a new car, fully decked out is about $4 million. They will start the refurbishing process once acquired, and all of the materials for these refurbished trains are sourced from NC businesses (from the textiles for the carpets and seats, to the wiring, brake shoes and lighting.)
The christening of the Cary locomotive will be this fall, with our own Mayor doing the honors. It should be a lot of fun!
First Stop, The Met
Our first stop was a redevelopment project called the Metropolitan.
We were met by Peter Pappas, the CEO of Terwillger Pappas who described the history of the property, from Charlottetown Mall, to Midtown Square mall, to what it is today in Midtown.
The mall was the first enclosed shopping mall in the Southeast when it opened in 1959. But over time it declined, and eventually became an outlet mall. Eventually, Pappas purchased the property (2001ish) and turned it into the current mixed-use development. The 23 or so acres includes a few anchors such as Target, as well as a 10 story mixed use building that includes Trader Joe's, Best Buy and others. It also includes condos. The discussion centered around public/private partnerships – where Charlotte worked with the owners on connections to greenways, infrastructure improvements and structured parking. It was an interesting history lesson and a long process, that goes to show you that nothing in this area of redevelopment is quick, or easy.
We toured the Metropolitan, and although a nice development, it's VERY urban feeling. I wish we went to see the other Pappas property, Birkdale. I have visited that development and really like that implementation of mixed use development, and can see something like that in Cary, for sure.
Next was dinner at King's Kitchen – a really cool not-for-profit restaurant. stablished in 2010, The King's Kitchen donates 100% of their profits from sales to feed the poor in the Charlotte region. They also partner with local area ministries to and provide all types of training, guidance and employment internship opportunities to folks that need help.
The sweet potatoe fritters, ohhhh… right…. but Don covered that in his blog.
Day 2 – Center City Partners and Transit
We started with an overview of the Center City Partners, an organization that seems like a mix between a Chamber of Commerce and an internal city economic development group. This organization is funded by an additional (very small) tax on the area they support in Center City.
The Center City Partners have a small staff and a board of directors, and their goal is to promote the economic, cultural and development of the area. They manage events such as the Thanksgiving Parade, bring arts into the community and work closely with the Charlotte Planning department.
During our discussion with the folks from the planning department, learned of their planning framework used called the "Centers, Corridors and Wedges Framework."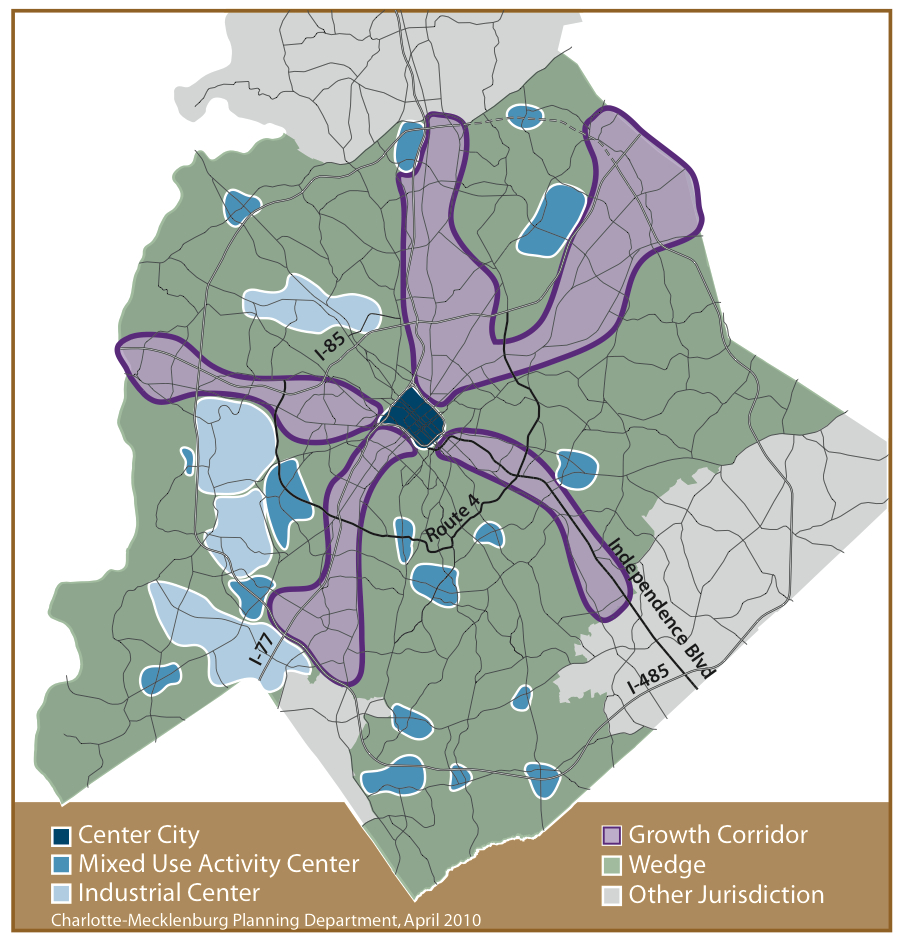 This framework is used as their planning guide for the areas within Charlotte, to help guide their development and to provide guidance on their infrastructure investment. The picture shows how they have used the visual (see, the centers as darker blue? And the wedges created by the purple transportation corridor?) From this framework, they have another 60 (?) planning guides, that details the guidelines for these specific areas.
What I like about this document is the overall visual it provides, and the direction for the expected types of uses in the areas. The guiding principals apply to the areas on the map. For instance, in the transportation corridors, you expect to see higher densities, compared to the "wedges." Of course, Charlotte has 775,000 citizens (in the urban area, 1.5M including the surrounding area) and almost 300 square miles; where we in Cary have 150,000 citizens and 55 square miles. So, size wise, there are differences for sure, but there are always lessons that we can learn from each other.
Transit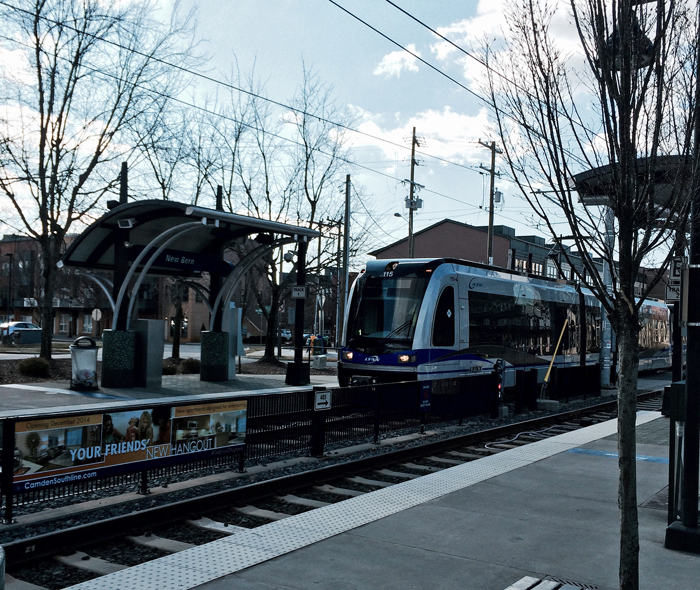 We got a great overview of the Transit Plan and Charlotte's commitment to light rail.  The first 9.6 miles of the light rail went live in 2007, at a cost of more than $460 million.  It was originally proposed in the1980's, when the voters in Mecklenburg approved a ½ cent sales tax to fund it in 1998.  The extension of the Lynx is in development now, an additional 9.2 miles for about $1 Billion.  Its cost increases are due to the routes of the trains – going over bridges, to the medians, and underground, all of which increases the cost. I was a bit surprised at the numbers, and thought that they were low.  Yes, low.  Why?  Because in the Wake County Transit Advisory meetings, we were told that Light Rail averages $100 million for a 1/4 of a mile.  So, these cost estimates looked way better.
I really loved riding the Lynx; it was easy, clean, and the Lynx app helped me figure out when the train was coming.  I could see something like this in Wake County – SOMEDAY.   But I'm not sure we have the current need.  But transit is about vision, and a strategic look for our community and our future as well as the current requirements.  Here were some of the "truths about transit" that were shared with us:
Check out more at :  Truth about Transit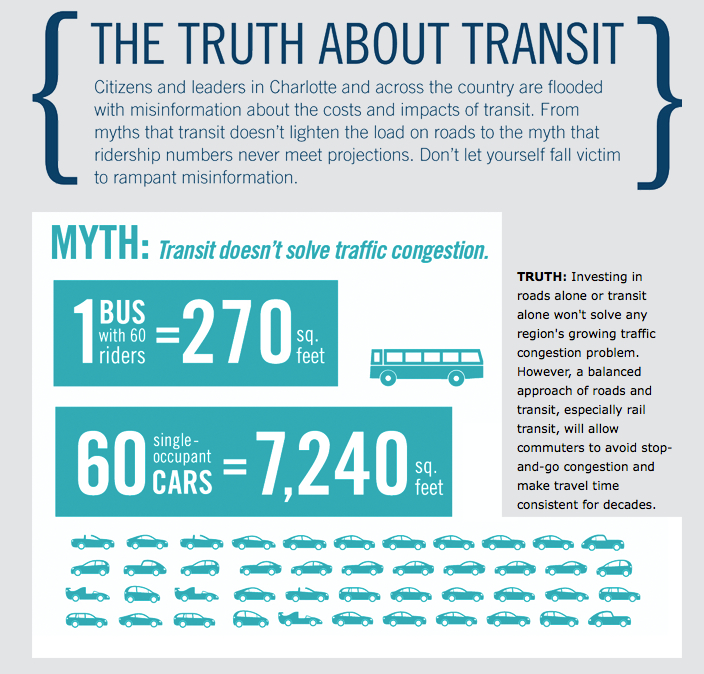 South End
We hopped on the Lynx to South End, a redeveloped community along the transit route.
This historic area sits right on Charlotte's 1st railroad – and way back when it connected it's textile manufacturing community with Charleston, SC.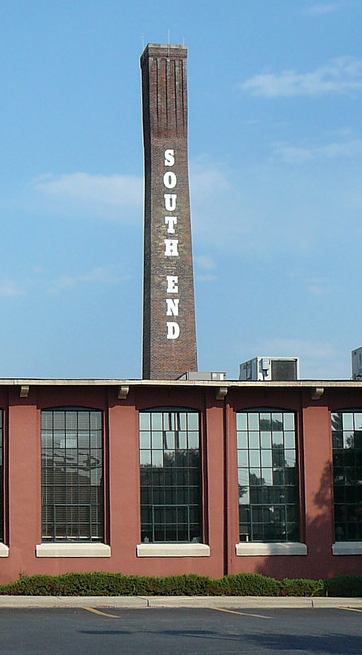 We met with the son of the original developer, hearing how the name came about (his dad just slapped up "South End" on one of the chimneys!), their commitment to leveraging the original buildings and how they created this urban area that now contains a mixture of shops and high end residential aimed at the millennials.
The apartment communities had an urban feel, with lots of concrete, metal and contemporary furniture. They had amenities that you would expect – pools, grills, fitness centers and even dog parks and stations – but they also had "transit rooms" – just outside the stations where a rider could comfortably watch for their train while sipping free coffee and watching the news. Not bad. But, these weren't cheap apartments, with 1 bedrooms starting at $1500 for 800 sq ft.
Since transit is a key amenity of these apartments – it's not surprising that some of these apartments have less than a single parking space for each unit.
This area is in transition – changing from dismantled warehouses, to a new urban transit hub, and it's surrounded by poverty, and some high crime areas. Another challenge for this redevelopment area.
We went to lunch at a cool little place called the Ice House via the Atherton Mill development project. Within that project was a really unique little market – called Atherton Market – with all types of vendors selling everything from pickles, to baked goods, to soaps and more. Eclectic, fun, and truly interesting, with one of the original trolleys sitting in the back of the market.
More redevelopment, art and more
After that we strolled around the area, getting a walking tour of the Camden Dilworth project and Camden Road redevelopment, the process and plan from the architect and founder of Centro Cityworks and the founder of the Historic South End. Interesting how this area redeveloped, up and down Camden Road, not all concentrated in one area as I expected. We talked about the pros and cons to having retail on the street level, the difficulty in obtaining financing, and the TIF financing that Don spoke about in his blog. The rest of the crew went to the Elder Art Gallery – but I bowed out and went back a bit early to the hotel to take care of my bronchitis.
Last Day – Bus Tour
We headed out first thing to drive around Charlotte communities. Seeing the more established areas like Dilworth and Myers Park, we got a real sense of the differences between the communities, and the identity they each have, and are proud of.
Stopping at Plaza Midwood, we spoke to a representatives from the Charlotte Neighborhood and Community Partnerships and from the Merchants Association. They spoke of the programs that have helped with the revitalization of their neighborhood from façade improvement programs (we have that!), to outreach with new developers to get the kind of development they want in their community.
Walking through this neighborhood several of us noticed that the new Harris Teeter had some great features, many of which wouldn't currently be allowed if it was built in Cary. An example was the transparency requirement – this building had integrated art, which really accomplished what I think we want to see via our current transparency requirement. The Harris Teeter was also positioned in a way, on a corner, that made the front of the building more inviting, what we call "activating" a corner. It had a great rooftop seating area (in a Harris Teeter!) with a green roof! Talk about great sustainability, in a grocery store.
Another "take away" was some of their crosswalks. The crosswalks we saw used what is called Thermoplastic paint, and added a great way to uniquely identify and delineate the crosswalks. Our current plan for crosswalks in the downtown area are focused on using different paving materials, much more expensive, and not as visually appealing, I think. Seeing these crosswalks, how they have worn (really well), and how visually appealing they were, was a real eye opener.
Along the way – we saw some of the newly implemented (and somewhat controversial) reverse angled parking. Instead of pulling into a parking spot, cars back into their spots along the street.  I actually like the idea.  Studies have shown (and our tour guides agreed) that it has slowed down traffic in the area.  It's also safer, and provides more parking than traditional parallel parking.
Finally we visited another unique place… a Lowes Home Improvement Store with parking on the roof. Nice to see how a store like this can fit in a more urban area, and still not take up a lot of horizontal parking.
Lunch and the Music Factory
We had lunch at Amelie's French Bakery – a well known spot in NoDa (Northern Davidson's Art District) where we were joined by the Mayor Pro-Tem of Charlotte and the Charlotte city manager and a member of the University City Partners.
BRIEF DESSERT INTERMISSION
Ok, I had the best dessert I've had in years there – called a Salted Caramel Brownie.
I found the recipe soon after – this sucker is getting made at my house, soon. (If you make it, let me know!)
Finally, we headed to the Music Factory. It was really a combination of everything we have seen – the unique use of older buildings to reinvigorate and spur economic development, while still preserving the historic area.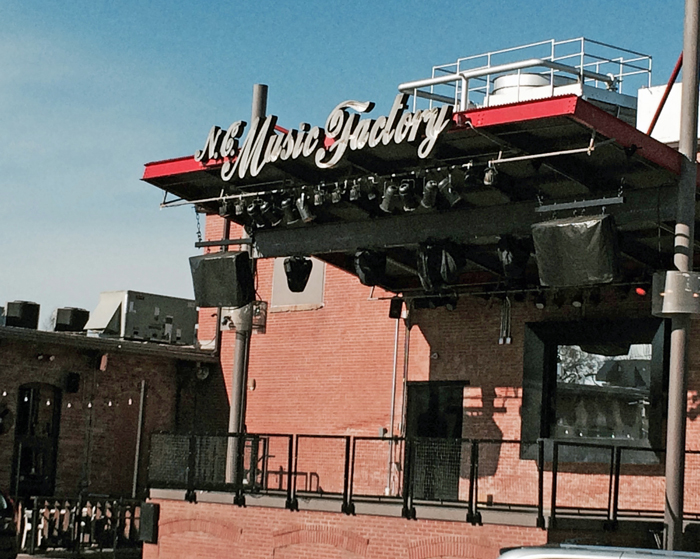 Home Bound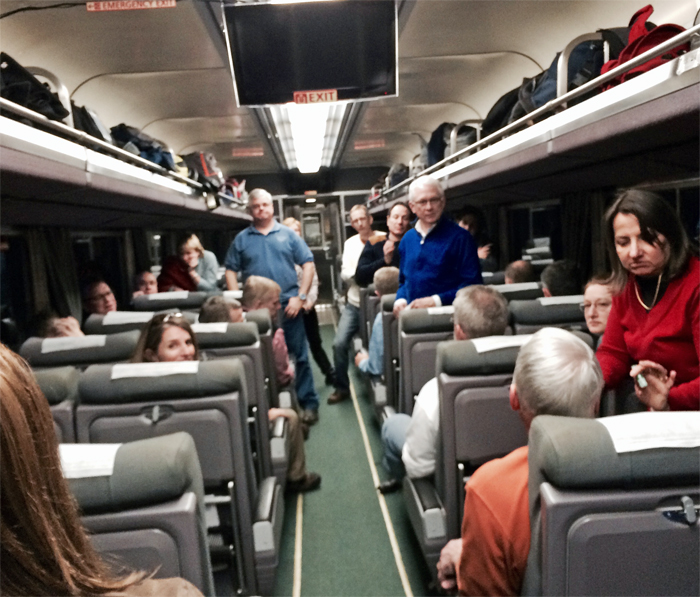 Afterwards, we headed to the train for our trip home. One of the best parts of taking the train was the ability to work and connect while traveling. On the way back we debriefed, shared our thoughts and just relaxed. It was a long trip, and considering I was sick, it seemed even longer. But all in all, it was a great trip and I believed I learned a lot, and hope to take it into account as we move forward in Cary.