I have a confession to make.  My mother is a clown. No, I'm not being mean.  It's true.  She's a real clown.  Makeup, the nose, the outfit, magic tricks, the whole nine yards.  It's a bit strange, saying that your mom is a clown.  At first, people look at you with that, "I can't believe you said that about your mother," look.  Then, they smile.  "Really? A clown?"  "Yes, like in the circus," I reply.  
But, then, I SMILE. Because I get to share all the amazing things she does as "Comfy the Clown."  (Her real name is Carleen, by the way.)  Comfy is her alter ego. In spirit, body and mind. Comfy is a 5 or 6 year old at heart, with bright pink hair, a southern accent (my mother is from the midwest), and a penchant for chocolate and single men.  She's what they call a "caring clown" traveling to all sorts of locations to brighten the days of people who don't get many visitors, spreading cheer, entertaining the lonely by singing songs and doing a few crazy magic tricks.  Her frequent stops are at senior centers, nursing homes, Alzheimer wards as well as a few children's hospitals and has even been to a prison (in clown, of course.)
It's a Family Thing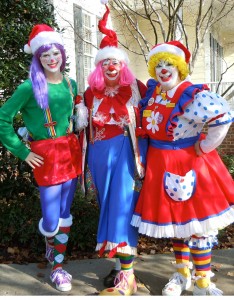 For the last 5 years or so, I've joined Comfy in her Christmas Day clowning. (Not every year, but as often as I can.  My kids have clowned with her, as well, when they are able.  We are Comfy, Clever (me), Casper (my son), Citty (my daughter).)  We load up the car with stuffed animals that have been collected and cleaned all year, and we head off.  Our mission is to bring these "homeless pets" to new owners; folks that promise to love and care for them. I have never felt the joy of giving back as much as I do then.  The look of surprise on the face of a resident when she/he gets something soft to love and hug, along with a laugh and a joke from the clowns, or a Christmas song as we make our way down the hall.  Our presence seems to lighten the mood and bring smiles to otherwise stressed faces.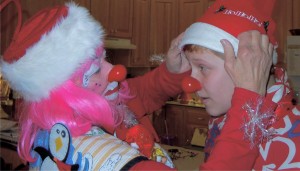 This year, my son went with Comfy to the Cary Total Life Center – an adult day care in Bond Park. They sang, they danced, they did magic and gave out gifts.  More importantly, they lifted the spirits of everyone there. Comfy flirted with a a few of the men, while singing with folks and telling jokes.
Watch them Smile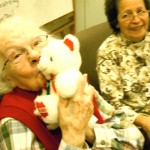 I've seen amazing things happen when Comfy "does a gig" at a nursing home. When people that were otherwise non-responsive, or quiet, will grab the microphone and belt out a tune with her Karaoke music playing, with such accuracy and vigor that you wonder why they were ever quiet.  When the staff looks at you – and whispers, "we haven't heard her talk in 3 months", or, "he hasn't smiled in weeks" – I know that she brings more than just stuffed animals.  She brings joy and life back to a place that holds our loved ones.  She's even taught a few others "the trade" and they now go out in groups, to spread even MORE CHEER!
Lessons Learned
Comfy has taught me more than how to put on whiteface and tell a joke or two.  She's taught me what it means to give back.  What joy looks like on the lit up face of great-grandmother, and how just a touch can lift the stress from a tired man that has seen more than I will ever know.  She's taught me how to let go of how things LOOK, and to be and feel young with enthusiasm, because that's what clowns do.  She's shown me that ONE PERSON can make a difference in the day of someone, and THAT difference could mean the world to them. And, most importantly, she's taught all of that to her grandchildren – sharing a legacy of giving that will never stop.
Note: How do you get to be a clown?  Wake Tech used to offer classes called "Clowning for Adults" run by Linny & Mo.