It seems fitting that my very first post on this, my own personal blog, is the evening of my swearing in as a Cary Town Council At-Large Council member.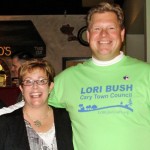 At the moment, I feel very humble, fortunate and extremely grateful to the citizens for Cary for their faith and belief in me, and my ability to serve them well.  Trust is the greatest gift of all – one that is earned and I know, can be lost.  It is my sincere desire to continue to earn your trust, and work hard as your At-Large representative.
Tonight's agenda comes packed full – a great way to start my service.  I have a plan to also ask for an item to be added to the agenda, with regards to Hydraulic Fracturing.  I'll write more about that, as time goes on.
I'll close now, with this – as it exemplifies my strongest public service belief –
Never doubt that a small group of thoughtful, committed citizens can change the world. Indeed, it is the only thing that ever has.

Margaret Mead