It's that time of the year in Cary again.  Time for us at the Town to ask YOU for your knowledge, experience, guidance and passion to continue to keep Cary as an amazing place to live, work and play. Yes, it's that time when we accept applications for you to participate on one of our seven volunteer boards, committees and commissions.
Why Volunteer?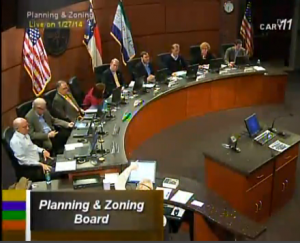 These boards are an incredibly valuable resource for the Town. And, as a council member, I have personally found great value in the recommendations provided by our citizen volunteers.  From feedback received from the Planning and Zoning Board, to the incredible report put out by the Environmental Advisory Board's Shale Gas Task Force, and also input from folks on the Public Arts Board and Parks and Rec. They are all key to what makes Cary such a great place to live.
But, it's not just about your feedback – it's about getting involved and truly making a difference. If you have a passion around any of these areas, please apply. Not only will you get an opportunity to help the town by providing your insights and thoughts, but also you will meet like-minded folks, interested in these topics and maybe even have FUN!  
And, volunteering is good for you.  More and more research shows that volunteering improves your health, happiness and well-being among those folks who do it.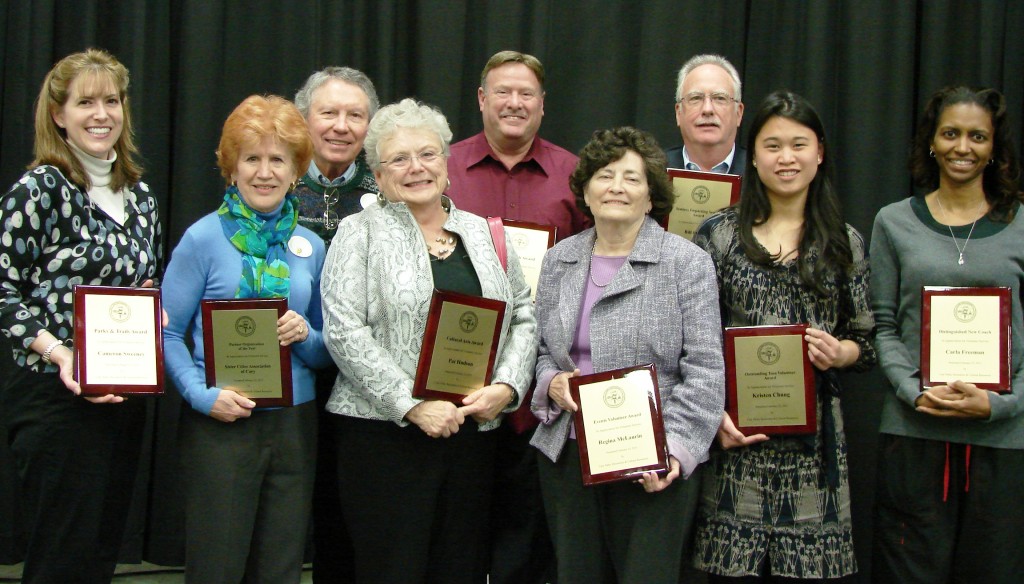 Details, I Need details
Each of the board and commissions are unique in size, meeting schedule, and their specific functions. Some of the boards also have subcommittees, such as the "Greenway Committee" as part of the Parks, Recreation & Cultural Resources Advisory Board, that you may also want to investigate.
• Environmental Advisory Board
• Information Services Advisory Board
• Parks, Recreation & Cultural Resources Advisory Board
• Economic Development Committee
Frequently Asked Questions

How much time does it take?
It depends on the board and commission. Some of them have monthly meetings of just an hour or two, with some pre-work required (reading or research), others can require more time and effort, perhaps a visit to a potential development location, etc.
Do I need any special skills?
Nope. What we need is your passion, experience, knowledge and love of Cary.
What opportunities are available for teens?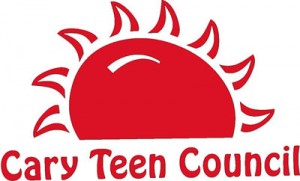 Ahhh, that's a great question. We have an organization that is specifically geared for teens – the Cary Teen Council. It is a volunteer organization made up of teens from a variety of schools in Cary and surrounding areas! The mission of the Cary Teen Council is to empower teens with the core values of leadership, accountability, and a heart for service. They provide volunteer and leadership opportunities, establish high standards for behavior, and promote teens to effectively communicate while managing their time and volunteer profiles.  We even have some teens from the Teen Council serving on our regular boards and commissions!
Teens participating in this organization have the opportunity to get involved in programs and events that focus on social/recreational, community awareness/service, educational, leadership/teamwork and 
fundraising/recruitment.  This last year we had more than 730+ teens participating!
Membership applications for rising 6th-11th graders are being accepted NOW through the end of June. For more information call Korey Sullivan at (919) 460-4965 or e-mail him at korey.sullivan@townofcary.org
How to Apply
Just go online and apply. Applications will be accepted through close of business on June 30, 2014. You can apply from your desktop/laptop or your Mobile device.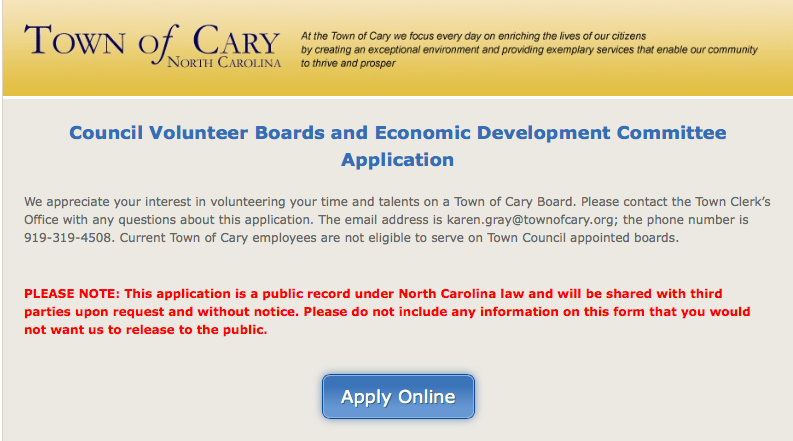 I look forward to seeing your application, and thanks for helping to keep Cary great!