I recently wrote about the new development at Bradford, and folks seemed to like the insight and updates on new construction in Cary.  So, in keeping with that previous post, I thought I'd give an update on a project that will be one of the first in the Alston Regional Activity Center.
Alston, Where is that?
The Alston Regional Activity center is approximately 970 acres located at the northeast corner of the intersection of NC Hwy 55 and Interstate 540.  The Town believes that this area will be a big attraction due to its proximity to RTP, and quick access to local roads and interchanges.
In 2006, the Town Council created a special Mixed Use Overlay district as well as an Activity Center Concept plan to help guide development in that area, and one of the first developments to move forward is Parkside Town Commons.
Highlights
I reached out to the developer this week to get an update on their plans, timelines and thoughts regarding the site.  During my meeting I got a good overview of their phased plan and the history of the project.  (You can also check out their plans on their website.)
Here are the highlights:
The entire plan encompasses about 110 acres, providing over 300,000 square feet of retail.
The extension of "Little Drive" is currently in progress (Little Drive turns into O'Kelly Chapel Road and crosses the railroad tracks on the east side of the property
The railroad crossing will be "at grade"
Public art will be located throughout the area
Phased Plan:  There are several phases, with the first being the larger retail at the south end of the property
A 135,300 square foot TARGET is the anchor store
Additional large retail space (~26,000 S.F.) in that quadrant
Potential grocery store
 Follow-on phase includes:
120 room hotel
Movie Theatre
Significant number of smaller retail and restaurants, including "junior anchor" stores.
Approximately 280 apartments.
Timeline
The site plan is currently in its 3rd review at the Town of Cary and construction on the first phase should begin the first quarter of 2013 – with the TARGET Store opening in March of 2014.  The next phases will be developed soon after.
They have a video online, as well.
Little Known Secret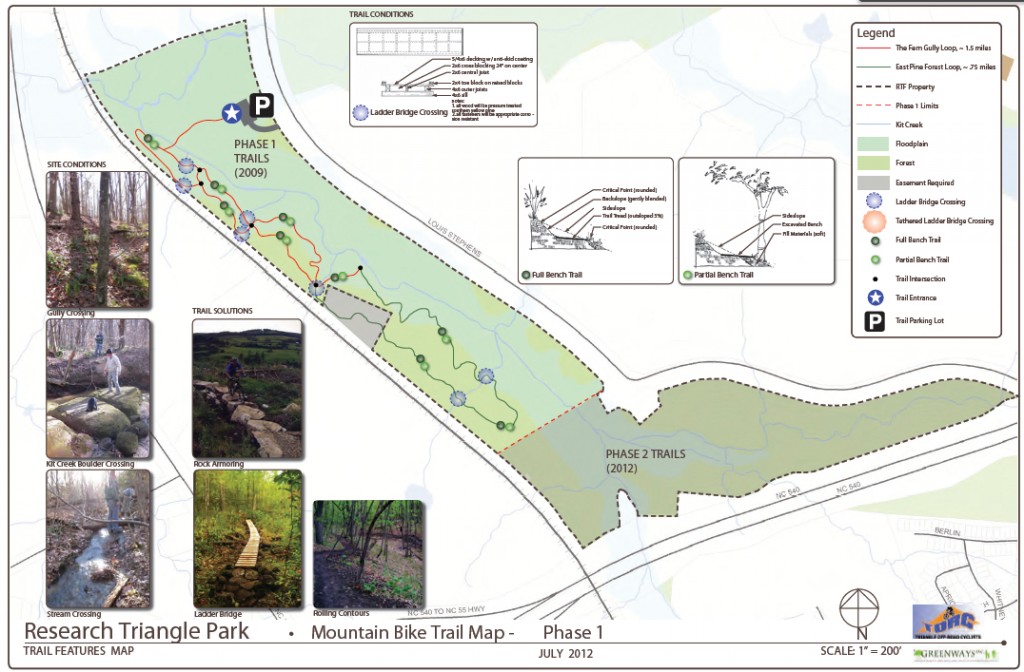 By the way, did you know that there is a very cool mountain bike trail on the other side of this property in RTP?
The Research Triangle Foundation worked with the Triangle Off-road Cyclists and Kite Realty (the developer of some of this property) to build a mountain bike trail.  Opened in 2009, it is very popular and has about 2 miles of trails with stream crossings, ladder bridges and lots of dips and rolling contours.  You can access this trail from the gravel parking lot off of Louis Stevens Drive.
(Parkside Town Commons pictures from Kite Realty Website)
Thanks for reading!  If you have any comments, questions, or thoughts, feel free to let me know.